Anna Maria Friman, voice
Nora Roll, viola da gamba
Dohyo Sol, lute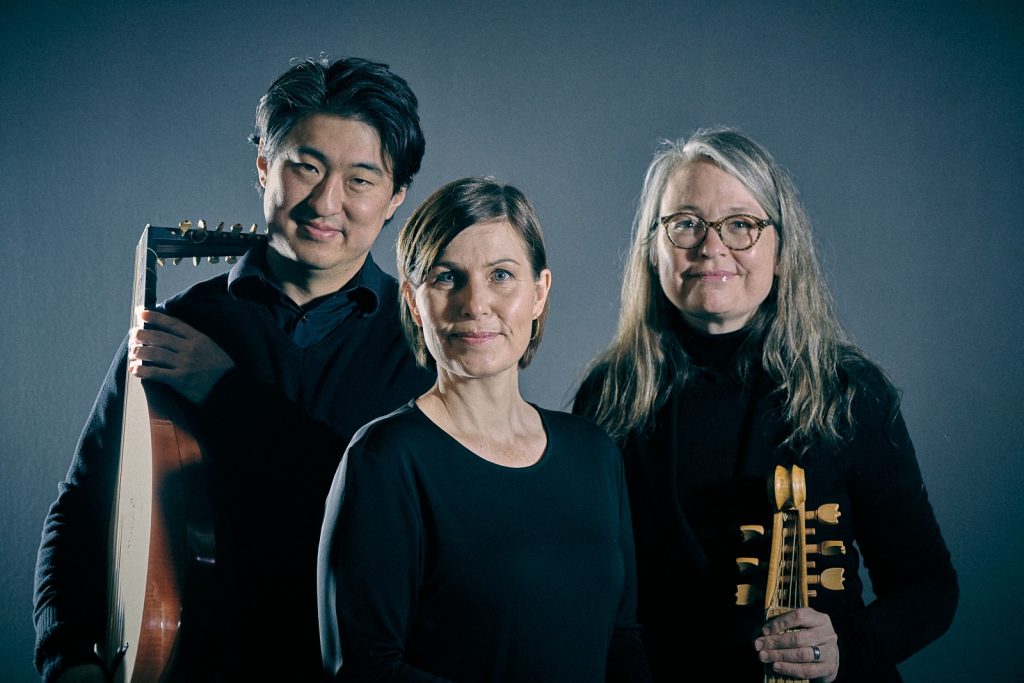 Towards the end of the tumultuous year 2020, the three musicians Anna Maria Friman (soprano), Nora Roll (viola da gamba) and Dohyo Sol (lute) met in Gothenburg and formed the ensemble Renaissance AND.
The musicians, all well-established in their respective fields, had previously performed together in different constellations. They all share a fascination for early and contemporary music, and with Renaissance AND they hope to entertain their listeners by reviving the 16th century from the perspective of our modern time.
With colorful concerts containing renaissance songs, many of them set to the early Italian renaissance poet Francesco Petrarca as well as contemporary pieces written for the group, Anna, Nora and Dohyo want to celebrate the contrasts and differences that we encounter in life, love and death.
In the Spring of 2021 the group started a collaboration with the two double bass playing composers Gavin Bryars and Anders Jormin. Renaissance AND gave their first streamed concert on the 23rd of May in Älvsborg church, organized by the Gothenburg International Organ Academy. Further engagements have included concerts at Næstved Early Music Festival, Valle Baroque Festival and Annan Music, Norrköping, Sweden.
Concerts:
23rd of May 2021, Älvsborg kyrka, Gothenburg, Sweden. Organized by Gothenburg International Organ Academy (GIOA).
29 November 2021, Næstved Early Music Festival, Denmark
12 August 2022, Valle Baroque Festival, Falköping, Sweden
16 August 2022, Annan Musik, Norrköping, Sweden
Biographies
For the last twenty years Anna Maria Friman has been working as a freelance musician both in chamber music ensembles and as a soloist with orchestras such as the Latvian Radio Choir, Gavin Bryars Ensemble, Hille Perl & Sirius Viols, Oslo Philharmonic Orchestra and Deutsches Symphonie-Orchester Berlin. With her regular groups Trio Mediæval and Alternative History Quartet she has performed throughout Europe, USA (31 states), Mexico, Canada, South Korea, Japan, China and Australia. Anna also frequently perform with the Friman-Ambrosini-Vicens Trio and ensemble Serikon, and has recently participated in projects with Göteborg Baroque. Most of her ensemble engagements include different musical styles, crossing borders between early music, folk, improvisation and contemporary music. In 2010 Anna completed a Doctor of Philosophy in Music at the University of York UK, where she researched the modern performance of medieval music.
Nora Roll is a half-Norwegian half Swedish gambist and lironist from Stockholm. In 1998 she became the first gambist to hold a Swedish music college degree, and since then she has devoted herself to her great passion; to accompany early vocal music. This has led to extensive professional activity in 25 countries (in Europe, Asia, North America and South America), with ensembles such as Les Arts Florissants, Les Talens Lyriques, Le Concert d'Astrée, Les Traversées Baroques, Akadêmia, Concerto Copenhagen and The Harp Consort. Back home in Sweden, Nora is a proud member of Göteborg Baroque. A keen gardener, she draws a lot of inspiration and creativity from cultivating her allotment.
Dohyo Sol studied the lute at the Royal College of Music in Stockholm, the Koninklijk Conservatorium in The Hague and at the Royal Danish Academy of Music in Copenhagen. Dohyo ́s repertoire ranges from the early Renaissance to contemporary improvisation. His lutes take him to opera houses and baroque orchestras all over the world, as well as playing with smaller ensembles and as a soloist. He plays regularly with ensembles such as Höör Barock Ensemble, Orkiestra Historyczna, Camerata Öresund and Concerto Copenhagen. Dohyo Sol has also conducted Monteverdi's L'Orfeo and and Rappresentatione di Anima et di Corp by Emilio Cavalieri, and taken part in opera productions at Malmö Opera, The Royal Theater in Copenhagen, Vadstena Academy, Ulriksdal PalaceTheater "Confidencen", Folkoperan in Stockholm and the Gothenburg Opera. As a soloist, Dohyo has a special penchant for lute music from "The Golden Age" of the English Renaissance and for the German "Galant" baroque style. Dohyo has made more than a dozen CD recordings as chamber musician, soloist and as a part of the "basso continue" in various Baroque orchestras. Since 2012 he has been co-artistic leader of Höör Barock Festival, one of the most prestigious early music festivals in Southern Sweden, which takes place in the village of Höör, where he also lives with his wife and two children.