Anna Maria Friman from Gothenburg, Sweden, studied singing (BA in Vocal Performance) at the Barratt Due Institute of Music in Oslo and further (Postgraduate Diploma in Vocal performance and MMus) with Linda Hirst and Barbara Bonney at Trinity College of Music in London. In 2008 Anna completed a PhD (Doctor of Philosophy in Music) at the University of York, UK, where she was researching the modern performance of medieval music by women. From 2001-2007 she taught singing and coached vocal ensembles at the University of York. Anna has given workshops and seminars in Europe and USA, and was a jury member at the vocal ensemble competition at the Tampere International Choral Festival, Finland between 2001 – 2015.
In addition to singing, she also plays the Norwegian traditional instrument Hardanger Fiddle. Her instrument was made for her by the Norwegian violin maker Salve Håkedal.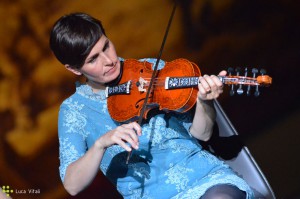 Her current solo engagement include performances and recordings with the Amores Pasados project including the tenor John Potter and the lute players Ariel Abramovich and Jacob Heringman. The group has recently recorded two recordings for ECM Records. Amores Pasados was released in Aranjuez (Spain) in June 2015, and the quartet has given concerts in Spain, Germany, UK, Poland, Slovakia and Ireland. In the Autumn of 2017 the quartet will release its second album "Secret History" (ECM) with music by Joaquin and Victoria.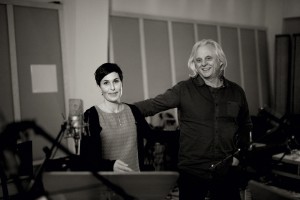 Anna and Manfred Eicher in Rainbow Studio, Oslo. November 2014. Photo: C.F Wesenberg
In the Spring of 2015 Anna started a new exciting project with Daniel Stighäll (Serikon). They have put together an exciting quintet of singers and instrumentalists (Anna Maria Friman, John Potter, Katharina Bäuml, Daniel Stighäll and Gawain Glenton). The group gave their first performance at the Trollhättans Tidig Musik dagar. In 2017 the group have a collaboration with Ensemble Mare Balticum and the actress Cecilia Frode in a project run by Musik i Syd.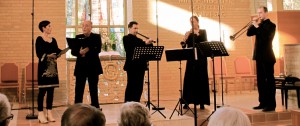 Anna also give duo concerts with her husband, the Norwegian trumpeter Arve Henriksen.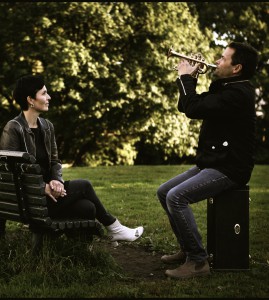 For fourteen years she has been a member of Gavin Bryars Ensemble. Bryars has composed music especially for her voice and together they have given concerts and radio broadcasts in Europe, Canada and Mexico.
Earlier collaborations include solo performances and recordings with  Rolf Lislevand Ensemble, Opera North, Royal Shakespeare Company, The Latvian Radio Choir, Ricercar Consort, Collegium Vocale Gent, Hille Perl and Lee Santana.
Anna is a member of the vocal ensemble Trio Mediaeval that was founded in Oslo in 1997. The trio´s core repertoire features sacred monophonic and polyphonic medieval music from England, Italy and France, contemporary works written for the ensemble, as well as traditional Norwegian, Swedish and Icelandic ballads and songs, arranged by the group members. The trio has released six recordings on ECM Records. The latest Aquilonis (released in November 2014) immediately reached the Billboard Top 10 Classical music bestseller list, and was was included in The New York Times "Classical Critics Pick the Top Music Recordings of 2014". In 2008 their Folk Songs was nominated for a US Grammy Award for "Best Chamber Music Performance".
Trio Mediaeval has performed throughout Europe in a variety of venues: churches, cathedrals, monasteries, farms, clubs, industrial spaces, museums as well as prestigious halls such as Oslo Concert Hall, Bozar in Brussels, Concertgebouw in Amsterdam, De Doelen in Rotterdam, London's Wigmore Hall and the Vienna Konzerthaus. The group made its US debut in 2003. Since that first appearance, the trio has embarked on multiple North American tours, performing in 31 states, in cities across the continent. Highlights include four concerts in New York's Carnegie Hall, the Brooklyn Academy of Music, the National Cathedral in Washington D.C., the Kennedy Center, engagements at San Francisco Performances and Spivey Hall, and broadcasts on American Public Media's Saint Paul Sunday and Performance Today. In Asia, the trio has performed in Japan, Hong Kong and South Korea.
The trio has collaborated with ensemble and artists such as The Hilliard Ensemble, MusikFabrik, Tord Gustavsen trio, Trygve Seim and Frode Haltli, Bang on a Can All-Stars,  Sinikka Langeland Ensemble, Terje Isungseth, Ståle Storløkken, Arve Henriksen, Jan Bang, the Kristiansund Sinfonietta, The Norwegian Chamber Orchestra, The Norwegian Radio Orchestra and the Oslo Philharmonic Orchestra.
In the Autumn of 2014 the trio had two new collaboration projects. Anna, Linn Andrea and Berit performed and recorded the pieces Just by David Lang and En la mar hai una torre by Betty Olivero with the Saltarello Trio in Drogheda in Ireland. The Recording "Song of Songs" was released in the Spring of 2015. They also recorded John Adams´ Grand Pianola Music with the Deutsches Symphonie-Orchester Berlin and the GrauSchumacher Piano Duo.
2016 was an exciting year for the trio, with several new collaborations including The Norwegian Chamber Orchestra, Vox Clamantis, Rolf Lislevand and Arve Henriksen, Mats Eilertsen Trio and Nils Økland. These collaborations will continue in 2017 and 2018.
In March 2017 Rímur (ECM Records) / Trio Mediaeval and Arve Henriksen was released.